At least 19 people were killed and more than 50 injured after and explosion at Ariana Grande concert in Manchester Arena last night.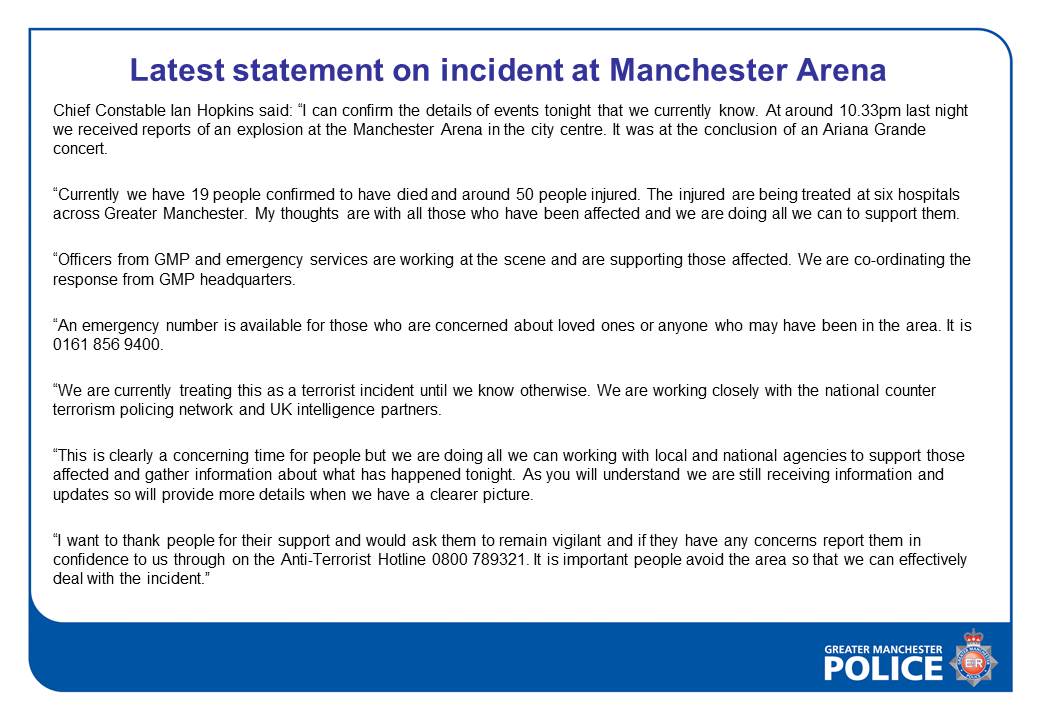 At 10.30 last night when the concert finished and the pop singer wished good night to her Manchester fans a "huge bang" was heard by witnesses. As the concert was broadcasted live on radio as well, it was initially reported that there was a microphone failure and people stumped on one another while running in panic.
It soon became clear that there was an explosion that took the life of 19 people and left more than 50 wounded. The act is treated as a terrorist attack. So far no group has claimed responsibility of the attack, however ISIS supporters congratulated themselves over social media this morning and urged for more similar attacks to be carried out in Europe and the USA.
Many news agencies also broadcasted a short video showing the aftermath of the explosion.
A second device was found in the Cathedral Gardens area of Manchester Arena and was detonated in a controlled explosion at 01.30 am.
Theresa May confirmed that the police is treating the act as "appalling terrorist attack" and has suspended her campaigning for the elections.
An emergency number was opened for those who want to find more information about missing relatives or people who were in the area of the blast:0161 856 9400.
Ariana Grande also took to Twitter to express her deep regret about the accident.
"broken. from the bottom of my heart, i am so so sorry. i don't have words", wrote the pop singer.